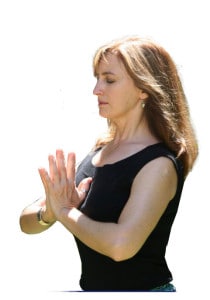 Through her writing, coaching, and teaching, Kaye Michelle Pezzini inspires others to awaken to their own higher consciousness and activate their spiritual warrior within. Her novel "Return of the Heroine", an inspirational story of a historical legacy of heroism intertwining with the empowerment of the modern woman, was winner of an Honorable Mention in the Writer's Digest Writing Competition, and a finalist in the Hay-House Visions Fiction Writing Competition.
During her time as a cadet at West Point, when she was among the first wave of women to be admitted, Kaye bridged a link through time and experienced a parallel between the struggles of one of the most important spiritual heroines in history, Joan of Arc, and the modern woman of today that still lives in a masculine dominated world.
Kaye's writing journey began with when her writing was published in the "2009 Chicken Soup for the Soul-Power Moms", and the "2012 Chicken Soup for Stay at Home Moms". She also founded a nonprofit for environmental and human relief. Kaye co-founded Franklin Yoga and Wellness (2004), a successful yoga studio in Massachusetts, and she is currently penning two more books.
YOGA:
Kaye (formerly Kaye Khalsa) is also a trained yoga Instructor with certifications in Kundalini Yoga, Brain Gym, Cranio-Sacral Therapy, Marconics Energy, and other mindfulness and meditative training programs located in the US and India. She studied directly under Yogi Bhajan, Sharon Salzberg, Brian Weiss and others. Kaye brings 17 years of teaching experience in leading groups and private clients through a number of stress reduction programs, workshops and ongoing classes.
Kaye wants you to be the heroine of your own story. . . "I believe everyone is more powerful than they think they are and that anything can be healed. Helping people experience their own infinity fills me with great joy."
Kaye's has been trained and/or certified in the following:
RYT 500 – Yoga Alliance
Marconics Energy Healing for Ascension
Past Life Regression Training with Brian Weiss
Kundalini Yoga & Meditaion, Level I & II
CranioSacral Therapy, Level I & II, Somato Emotional Release I & II
Healing from the Core, Basics of Energy Dynamics, Advanced, Full-Body Presence
Sat Nam Rasayan Meditative Healing – Level 2
Loving Kindness Meditation with Sharon Salzberg
Brain Gym – Educational Kinesiology
Touch for Health
Anusara Advanced Training for Teachers with Todd Norian & Ann Greene
Melchizedek Method
Reiki Master/Teacher
Magnified Healing
Advanced Meditation Oneness University, India
IAHP Teaching Assistant – Upledger Institute